Just bought my tickets for both races at Las Vegas Motor Speedway in February, plus a Neon Garage pass! Woohoo, I'm so excited!!! Hopefully this means more opportunities for good pictures, so if you only visit this page one more time ever, definitely make it in early March. Hehe, pressure's on now - this time I
have
to get some good pics! I think I'll try to figure out how to blog from my phone, too, so if I have any Chad sightings, I can freak out on here immediately afterward, ha.
This is going to be so cool! I've only ever been to Fontana, so this will be a completely new experience for me! Plus my JJ 4-time-champ, really-flippin'-awesome jacket finally came in the mail earlier this week, and I can't wait for an excuse to flaunt it! Even if I don't get any shots of Chad, I'll have plenty of me wearing that jacket, whether you want to see them or not. ;) And last but not least, IT'S VEGAS, BABY! Seriously, could they have thought of cooler place to put a race track? I don't think so. There are cooler race tracks out there, yeah, but not in a cooler location than this.
And just to add some actual Chad to this post, here's a little something I thought y'all might like to see: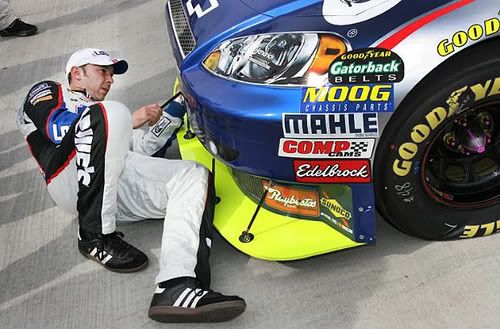 :Sigh: Ya know, Chad by himself always makes for good ogling, but Chad working on a car is just...I don't know, it's a little piece of harmony in this chaotic universe, ya know?